See our Mission statement.
CHE remembers environmental health leader, Theo Colborn, 1927-2014
12/15/14: For nearly 30 years Theo Colborn, founder of The Endocrine Disruption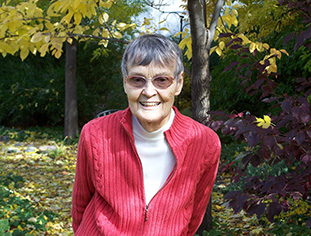 Exchange (TEDX), dedicated herself to revealing the dangers of endocrine disrupting chemicals to wildlife and humans. More recently she alerted us all to the threats posed by chemicals associated with oil and gas development. She wove the two together beautifully in her statement The Fossil Fuel Connection, which she worked on until the day she died.
Theo's visionary leadership and passion shone most brilliantly when she made direct connections between new ideas, scientists whose work confirmed them, impacted individuals, and people in positions to change what needed changing. She will be remembered for many generations to come, generations that she worked tirelessly to protect.

Visit the TEDX website
Share your Theo Colborn story
Read a short bio of Theo Colborn written by Elizabeth Grossman
Read the CHE Partner Spotlight interview featuring Theo Colborn
San Francisco Medical Society journal focuses on environmental health
11/10/14: San Francisco Medicine (SFM), which has been in continuous publication since 1927, is the official journal of the San Francisco Medical Society. Each issue of SFM focuses on a specific topic that affects physicians and their practices, including public health, social, political, economic, and lifestyle issues.The most recent edition of the journal focuses on environmental health and features an article titled The First 1000 Days: A Healthy Return on Investment co-authored by Elise Miller, MEd, CHE's Director, and Ted Schettler, MD, MPH, Science Director at SEHN and at CHE, as well as many other articles that will be of interest to CHE Partners. Visit the San Francisco Medical's Society website to read the full edition.
CHE and A Story of Health at PPTox 2014

Mark Miller with the Story of Stuff poster at the PPTox meeting (click for a larger image
11/1/14: CHE has been collaborating on an innovative new multi-media eBook A Story of Health. The first three chapters of this eBook – fictional stories of people with asthma, developmental disabilities, and childhood leukemia – are due to be released in early 2015. A poster on the eBook was recently presented at the PPTox IV conference "Environmental Stressors in Disease and Implications for Human Health" organized by the Endocrine Society. Narrative approaches and storytelling are emerging as powerful health promotion tools that can help increase understanding of determinants of health and translate complex science. A Story of Health capitalizes on this approach by using fictional stories to help convey how multiple environmental factors affect health across the lifespan. See the poster on the CHE website.
CHE launches new listserv on healthy aging and the environment
10/20/14: CHE invites all Partners to sign up for the new Healthy Aging and the Environment listserv. This listserv combines the former Neurodegenerative Diseases and the Environment listserv with CHE's Healthy Aging Initiative work to create one listserv focused on emerging research and relevant articles on environmental contributors to neurological challenges and other disease endpoints in the later stages of life. To see a full list of CHE's current listservs and working groups, please visit our Initiatives page. To join the Healthy Aging and the Environment listserv, please email your request to join to info@healthandenvironment.org. You must be a CHE Partner to join a working group or listserv. You can join CHE here.
CHE's new quarterly Top 10 environmental health stories now available
10/2/14: CHE offers this selection of research, news and announcements that were of special significance during the first quarter of 2014. Items include research that made a noteworthy contribution to the field, news and announcements that took a conversation to a new level and/or new audience and some welcome action. Visit the CHE blog to see this quarter's list. We invite comment and feedback.
CHE Director interviewed on NYC-based public radio on health and the exposome
3/15/14: During this interview on WBAI-New York, Elise Miller, CHE's director, discusses how the success in mapping the human genome has fostered interest in mapping the "exposome", a term coined to describe everything a person is exposed to starting at conception and includes lifestyle choices and well as chemical exposures. Elise further explains to health journalist, Liz Seegret, how the genome and the exposome, as well as the interactions between them, affect our health across the lifespan. This interview was based on Elise's "pioneer pitch" to the Robert Wood Johnson Foundation last October in New York City.
Listen to the interview
Read more about RWJF's Pioneer Pitch
Ecology of Breast Cancer
12/1/13: The Ecology of Breast Cancer: The Promise of Prevention and the Hope for Healing is a new book by Ted Schettler, MD, MPH that makes the
case that breast cancer is a disease arising from diverse societal conditions. Although well-recognized risk factors and a person's life style are important, they simply do not explain why many people develop the disease. Nor do they fully explain breast cancer patterns in populations.
Download the book (complete version or chapter-by-chapter)
Listen to the CHE call featuring Dr. Schettler
Listen to the New School conversation featuring Dr. Schettler
CHE regularly highlights the work of our Partners here in our Partner Spotlight.
Vi Waghiyi is a St. Lawrence Island Yupik mother and grandmother, Native Village of Savoonga Tribal Member, and Environmental Health and Justice Program Director, Alaska Community Action on Toxics (ACAT), which is also the organizational host of CHE's Alaska Working Group. In this CHE Partner Spotlight, Vi discusses her work addressing environmental contamination and its impact on human health in Alaska.
What inspired you to begin working in the field of environmental health, and in your current work in particular?
I am a Yupik mother of four boys and a grandmother from Savoonga on St. Lawrence Island, located in the northern Bering Sea. Our people have maintained a traditional culture of reliance on traditional foods from the land and sea that provide physical, cultural, and spiritual sustenance.
I learned about the high levels of PCBs in our people in a news article in the Anchorage Daily News when I was a stay-at-home mom. This touched me personally because so many family members and friends from my community, including my parents, have suffered and died of cancer. I have had three miscarriages. I am inspired by this awareness and what I have come to learn about the contamination from military and distant sources and making the connection with the illnesses suffered by my people. I was brought up in a culture of caring where people work together. We were wronged by the US military and corporations that have contaminated my people without our consent. We are the victims of environmental violence. This goes against my culture and upbringing. I am inspired to hold the military and other polluters accountable and to achieve justice. I am inspired to work for the health and well-being of my people and our future generations.
---
TOP RESOURCES
20 Dec
EPA coal ash standards a setback for environmental groups.
With each coal ash spill, environmentalists sounded alarms and called for the byproduct of burning coal to be treated as hazardous waste. On Friday, U.S. Environmental Protection Agency released the first standards for the coal-burning waste, but they were hardly what environmental groups were hoping for.
20 Dec
Keystone 'not even nominal benefit' to US consumers, Obama says.
President Obama on Friday said building the Keystone oil pipeline would "not even have a nominal benefit" to consumers, pushing back at claims it would lower gas prices further.
20 Dec
A new Harvard University study adds to a growing body of evidence linking air pollution and autism.
A new study from the Harvard School of Public Health, published yesterday in the journal Environmental Health Perspectives adds to a growing body of evidence that says small particulate matter that pollutes the air might be to blame for increasing autism rates.
20 Dec
Obama's mine regulator says science spurred aggressive rulemaking.
President Obama's nomination of Pennsylvania mine regulator Joseph Pizarchik to lead the federal Office of Surface Mining, Reclamation and Enforcement in 2009 was opposed by environmentalists who saw him as too cozy with the coal industry. But he wasted little time in showing that they had gotten him wrong.
20 Dec
All it takes for the Desolenator to make clean drinking water is a little sunlight.
Turning saltwater into clean drinking water is usually an expensive and energy-intensive process. But a new solar-powered device could make the process affordable for the millions of people around the world who don't have running water.
20 Dec
Delhi's air 'hazardous', doctors sound caution.
Air quality in the city deteriorated to "hazardous" levels on Friday with the US embassy's pollution monitoring station advising people to "avoid all physical activity outdoors".
20 Dec
Here?s the grassroots political story behind the New York fracking ban.
Long before Wednesday's ban on fracking by the administration of Gov. Andrew Cuomo, small towns in New York state were fighting for their rights to ban fracking no matter what the state wanted.
20 Dec
East Bay Chevron refinery incident draws criticism, raises concerns.
Speculation grew Friday about whether the fire in the sky that emanated from Chevron's Richmond refinery on Thursday night was a "near miss" that easily could have resulted in a catastrophic accident on par with the massive blaze at the facility two years ago.
20 Dec
Chiquita settles lawsuit over green marketing, but the legal battle isn't over.
A Seattle nonprofit alleges that Chiquita banana suppliers - certified sustainable by the Rainforest Alliance - pollute water supplies in Guatemala, but the banana giant stands by its record.
20 Dec
Building toward a goal of reducing emissions in New York city by 80 percent.
On the eve of the People's Climate March in September, Mayor Bill de Blasio announced an ambitious goal: The city, he said, would reduce its greenhouse gas emissions 80 percent by 2050. Now comes the hard part: getting there.